Resumen y contenidos - Xamarin Assemble 2020 edicion online! 🙉⚡📱
Te perdiste Xamarin Assemble? Comparto mis diapositivas, links, codigo en GitHub y mas detalles del Xamarin Assemble 2020 Online. Gracias a todos/as por acompañarnos!
Sobre el evento
El 16, 17 y 18 de julio de 2020 tuve la oportunidad de participar en el Xamarin Assemble, el evento de Xamarin / Mobile Cross Platform más grande de Argentina, y por primera vez en su versión en línea!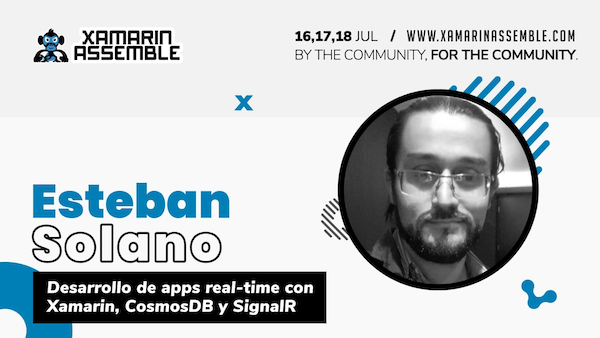 Website: https://www.xamarinassemble.com/
Para esta ocasión el evento contó con 28 speakers y en especial con la participacion destacada miembros del equipo de Xamarin incluyendo David Ortinau, James Montemagno, Maddy Leger, Brandon Minnick y por supuesto MVPS y entusiastas de la comunidad Xamarin de toda Latinoamerica y de todo el mundo.
De mi parte, muy agradecido con los organizadores por permitirme sumar a este tipo de eventos y felicitarlos por llevar a cabo la actividad a lo largo de 3 dias, con más de 900 espectadores y 20 sesiones.
Aaaand that's a wrap! THANK YOU everyone for joining us and being part of this awesome event! 👏📲🤗 @XamarinAssemble @sebaleoperez @fede_macca @germankuber @Micaela_Perdomo pic.twitter.com/Q0IpVTPc3X

— Nico Milcoff (@nmilcoff) July 18, 2020
Diapositivas de mi presentación: Desarrollo de apps real'time con Xamarin, CosmosDB y SignalR
Por acá el link de descarga (click derecho, descargar):
Diapositivas
Codigo fuente (GitHub)
Por aca el link al repositorio en mi GitHub con todo el material.
https://github.com/stvansolano/my-todo-app
By the Community, For the Community!
Agradecerles nuevamente a todos los organizadores, speakers y entusiastas que participaron en la realización del evento! Estare actualizando este post con mas detalles del evento y la grabacion, en cuanto se encuentren disponibles. Mientras tanto les invito a suscribirte a mi blog en este link y a mantenernos en contacto para vernos en próximas actividades.