Resumen y contenidos de mi charla - Mockeando tus APIs con C# y Xamarin DotNet Conf Latam
Comparto las diapositivas, links, codigo en GitHub y mas detalles de la .NET Conf y la edicion especial en formato online para Latinoamérica. ¡Gracias comunidad Latina .NET!
Sobre el evento: ¡Viva .NET!
Esta semana tuvo sede la .NET Conf a nivel mundial y desde hace más de 10 años en formato online, uno de los eventos más esperados por la comunidad .NET, celebrando a la vez el release de .NET 5, la tan esperada unificación de la plataforma bajo 1 solo .NET (no mas .NET Framework ni .NET Core en adelante, solo .NET).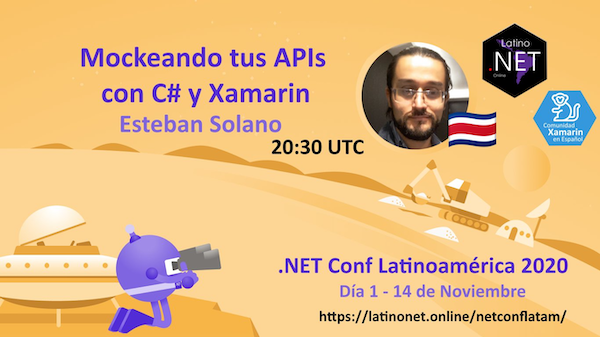 Link de la transmisión al evento completo (YouTube): https://www.youtube.com/watch?v=wcVrXGlxZxA
Para la comunidad latina, tuvimos el privilegio de ser enlace y transmitidos como parte de las sesiones complementarias al evento global en conjunto con la organización de la comunidad Latino .NET Online quien se encargó de reunir la agenda y speakers del área que frecuentamos compartir con esta gran comunidad, abarcando casi 8h completas de transmisión continua y +1800 vistas en YouTube de todo el evento.
Especial agradecimiento y créditos en todo momento a Latino .NET Online por su labor titánica para realizar este evento.
Do it amigo! We have #dotnetconf content waiting for you guys!https://t.co/Y4DDWR4wCIhttps://t.co/Y4DDWR4wCI

— Esteban Solano G. 🇨🇷 (@stvansolano) November 15, 2020
Diapositivas y video de mi presentación: Mockeando tus APIs con C# y Xamarin
El día estuvo cargado de sesiones, abarcando desarrollo web, .NET 5, Xamarin, Blazor, Azure y muchos más. Les comparto el link en caso que no pudieran asistir. En mi presentación, aporté con mi charla titulada "Mockeando tus APIs con C# y Xamarin".
Por acá el link de descarga (click derecho, descargar) a las diapositivas:
Diapositivas
Esta charla tuve oportunidad de presentarla en la DotNetCoreConf meses atrás, en donde hice la demo y presentación desde Visual Studio para Mac
Presentación para la DotNetConf 2020 Virtual: https://www.youtube.com/embed/_-FzKgVl03g
Codigo fuente (GitHub)
Por aca el link al repositorio en mi GitHub con todo el material.
https://github.com/stvansolano/WooCommerce-Mobile
Documentación WooCommerce (WordPress)
El ejemplo que mostré está basado en la implementación del API para la tienda en línea de WooCommerce (Tienda Open Source basada en WordPress), la cual tuve oportunidad de crear la aplicación y conectarla al backend hospedado todo en Azure. Les dejo por acá el link a la documentación, la cual utilicé para "mockearla" para la demo.
http://woocommerce.github.io/woocommerce-rest-api-docs/
By the Community, For the Community!
Agradecerles nuevamente a todos los organizadores, speakers y entusiastas que participaron en la realización del evento! Les invito a suscribirte a mi blog en este link y a mantenernos en contacto para vernos en próximas actividades!